Mazda Windshield Repair & Replacement in Greater Toronto Area
Cars have always been more of a necessity than a luxury so when your Mazda has a broken or cracked windshield, you would want to have it repaired as quickly as possible. You put yourself to great risk by driving around with a broken windshield. Hence, opting for superior Mazda windshield repair will help you get your vehicle back to its former condition, making it safe to take back on the road.
Why the Need for Windshield Repair?
Windshields can get damaged by rocks, flying debris, ice or hail or even acts of  vandalism- and when it does, you are bound to feel frustrated. The repair work needed would naturally depend on the amount of damage caused. If the windshield has a small crack that is smaller than 6 inches, you need not worry about a thing as a simple Mazda windshield chip repair job will get the situation taken care of.
Mazda windshield Repair  & Replacement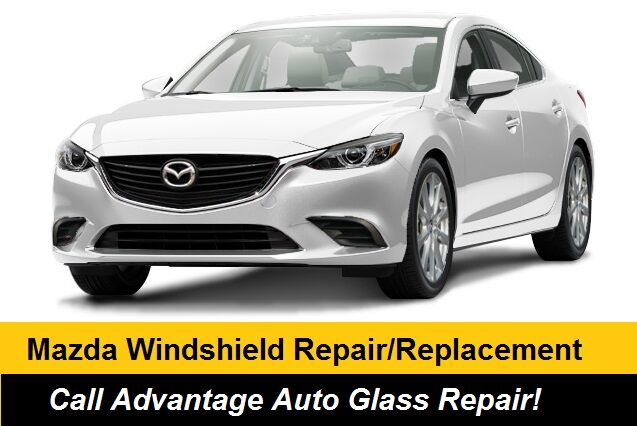 Mazda windshield repairs are relatively affordable, when compared to windshield replacements. If the damage does not blur your line of vision and is not at the corner of the windshield, there is no reason to go in for a replacement. However, avoiding repairing the windshield is never a smart option as there is always the possibility of a chip turning into a large crack and eventually breaking completely. The best part is that repairing your windshield is quick and easy and can be completed in as little as 30 minutes, in most cases.
If you treat the damage early, you will certainly be able to get off with just a windshield repair however, if the crack in the windshield is severe, you would need to go in for a Windshield replacement at an affordable price. Our Mazda windshield prices are very reasonable with a quality job & workmanship.
Find the Best Mazda Windshield Repair and Replacement Professionals Here
At Advantage Auto Glass Repair Toronto, we focus on providing auto glass repairs that are reliable and professional. We provide windshield repair and replacement services to all Mazda vehicles out there – from the Mazda 3 to the Mazda 3 Sport, CX-5, MX-5, MX-5 RF, CX-3 and more. The best part is that we also provide mobile windshield repair and replacement services so you can save time by giving us a call and letting us come to you, wherever you may be.
Exuding professionalism at every turn, we always provide our customers with same day services and will even inform you about the time frame for the repair appointment so that you do not have to put your work on hold to wait for our arrival. Depending on the insurance coverage you have, your Mazda windshield repairs can be fully covered. Not only will we handle your insurance claim for you saving you from the hassle of the entire process. We are usually able to help customers waive off their claim deductible by upto 100% on some services.
Contact Advantage Auto Glass Toronto to get Mazda Windshield Replacement Cost or quote on windshield chip repair.
Related Searches: Mazda Windshield Replacement Cost, mazda 3 windshield replacement, mazda 6 windshield replacement, mazda 5 windshield replacement, mazda windshield crack, 2005 mazda 3 windshield replacment