Audi Auto Glass Repair & Windshield Replacement Greater Toronto area
Audi cars add sparkle to your lifestyle. A windshield chip or crack could not even steal the look of the car but more importantly the driver's safety is also compromised. Stone or rock chip damage can be hazardous as the windshield can crack unexpectedly causing the driver to lose control of the vehicle. Needless to say driving with a broken or chipped glass should be avoided and should be dealt with asap.
Audi Windshield Repair in Greater Toronto Area
In case of an auto glass crack or chip, we suggest you call or email us for a quote. We will get back promptly to your request. Depending on whether its safe for you to drive, you can either drive to our shop to get your glass fixed or request a mobile repair service.
Our experienced technicians first assess the repair potential of the windshield crack. If repair of the chip or crack is possible, we can do away with replacement. Advantage Auto Glass Repair has the required expertise to help you fix your Audi vehicle glass or replace it altogether. Our technicians will be able to advise you based on the extent of the damage.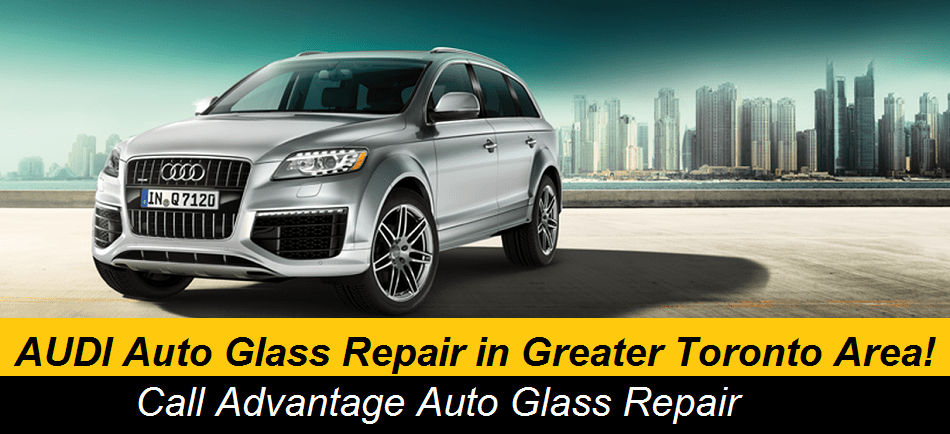 We service all Audi models including: 
Audi A3 Sedan / S3 Cabriolet / Audi S3 Sedan
Audi A4 Sedan / S4 Sedan / A4 allroad quattro
Audi A5 Sedan / A5 Coupe / A5 Cabriolet
Audi S5 Coupe / S5 Cabriolet
Audi A6 / S6  / A7
Audi S7 Sportback
New Audi RS 7 Sportback
Audi A8 / S8
Audi Q3
Audi Q5 / SQ5
Audi Q7
Audi TT Coupe/ Roadster/TTS Coupe
Audi R8 Coupe/Spyder
Audi Windshield Replacement in Toronto & Greater Toronto Area
In the event of the windshield warranting a replacement, we employ the best available technique for installation. The bare metal is treated with primers and cleaned off contaminants before fixing the glass to cause the glass to stick steadfastly to the metal. We prime the glass prior to fixing and then allow it to dry for sufficient time to facilitate best binding with the urethane.
Insurance
Having comprehensive coverage as a part of your insurance plan means your insurance will cover the expenses to repair the damage. You will need to consider the cost of the repairs or replacement and based on your deductible decide whether it's worth to claim insurance or not. Advantage Auto Glass can waive up to 100% of your deductible. Ask us for details.
Same Day Service
In most cases, we can offer same day service for Audi windshield repair or replacements.
Mobile Service
Our mobile repair technician can come to your home or office and help you save time and avoid the hassle of driving with a broken glass. You can request a mobile service any where in Greater Toronto area.
At Advantage Windshield Repair Toronto, convenience of our customers tops our agenda. We provide mobile repair service so you can request a windshield chip repair at the place of your convenience. We also offer lifetime warranty for windshield repair and replacement for as long as you own the vehicle.
Get a FREE Quote for Audi auto glass repair anywhere in Greater Toronto area.
Popular keyword searches: audi auto glass repair in toronto, audi windshield replacement cost, audi a3 sedan windshield replacement cost, audi a4 sedan windshield replacement cost, audi r8 windshield replacement cost